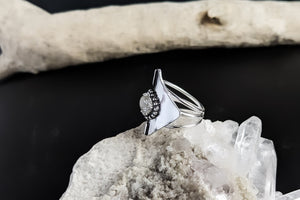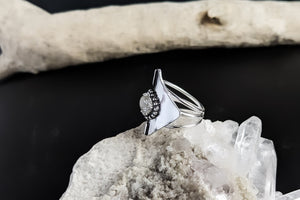 TAFAT (ⵜⴰⴼⴰⵜ) -LIGHT- RING
This ring is part of the CCETWA (ⵛⵛⴻⵜⵡⴰ) winter collection and is inspired by the northern landscapes of Québec, Canada, and by the winter mountain landscapes of Algeria and Morocco.

This ring is completely one-of-a-kind, all made from 925 silver, 70% of which has been upcycled. It is adorned by a beautiful moonstone and is entirely hand polished.

This ring is a size 6 1/2 US and can be upgraded up to a size 7 1/2 US.
Length : 2.7 cm

Handcrafted with love in Tio'tia:ke/Montreal.