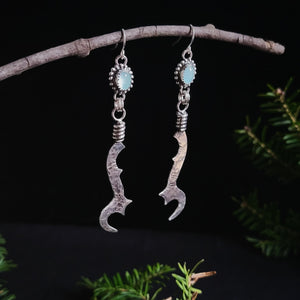 HARADRIM EARRINGS
This earrings are part of the CCETWA (ⴽⴽⴻⵜⵡⴰ) - LOTR - winter collection and are inspired by the timeless universe of Tolkien, with all its creatures and beasts, as well as honoring the winter solstice.

These earrings are completely one-of-a-kind, all made from 925 silver, and are entirely hand polished. The stones used are beautiful blue calcedonies.

Length : 7.5 cm

Width (at largest): 1.5 cm
Handcrafted with love in Tio'tia:ke/Montreal.