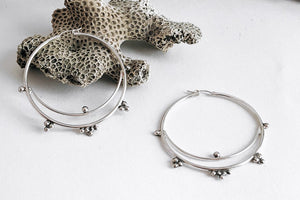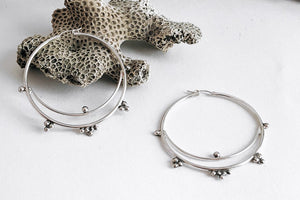 ITIJ (ⵉⵜⵉⵊ) - sun - hoop earrings
Portraying warmth and vibrance, these earrings are inspired by the sun and by the Amazigh culture, particularly the Kabyle tribe of North Algeria.

These earrings come in two length sizes : approx 5.5 cm and 6.4 cm. Because they are entirely handmade, the length can fluacte a few millimetres.

They are light, sturdy and comfortable for everyday wear, as the hoops used are hollow on the inside.

These earrings are entirely handmade of 925 Silver and individually hand polished.

Handcrafted with love in Tio'tia:ke/Montreal.