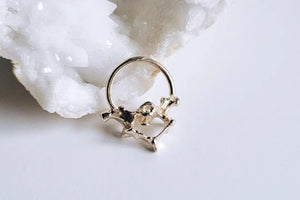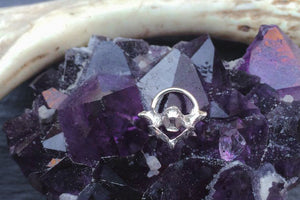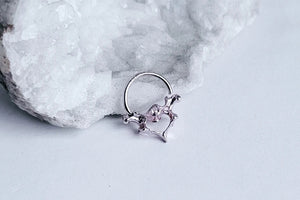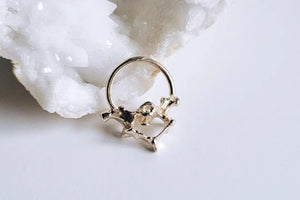 VERTEBRAE Septum Ring
This unique ring is casted from a real vertebrae. The original vertebrae was found in a forest, therefore it is difficult to know exactly to which animal it belonged to. However, a taxidermist believes it may be a bird bone.

The silver version is rhodium plated making the ring tarnish free and hypoallergenic - perfect for those with a low to mild sensitivity to 925 silver.

If you tend to react negatively to silver jewelry, I would highly suggest going with one of the three gold options.

Free from nickel and individually hand polished. Each piece is made to order in your requested size ; Allow approximately 5-7 days for production. It is a buyer's responsibility to check their measurements and get in contact with me before finalizing their purchase(s) if they have any questions regarding the item(s) they seek.

WIDTH - 15mm
HEIGHT (from top of the vertebrae) - 10mm
DEPTH (from the thickest upper part) - 6mm

Handcrafted in Tio'tia:ke/Montreal.